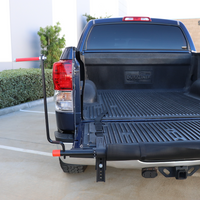 Boxer Heavy Duty Universal Truck Bed Cargo Unloader, 2,000 lbs. Capacity
This truck bed cargo unloader can unload up to 2,000 pounds of soil, gravel, logs, rocks and more. It contains a 2-piece bar for easy storage and transport. The drag sheet is constructed from highly durable polypropylene material. The unloader also includes a 21" removable handle for a roll-on operation. It's suitable for pickups, mid-to full-size trucks. 
California Residents: Warning 
Easy Unload
At 82 years old I can still unload my pickup of garbage, wood, dirt, hay because of this clever device. My son didn't believe me until I showed him with a load of gravel. Now he has one on his truck.
What a Timesaver!
We bought this unloader to unload compost to our garden. It was easy to install and took extremely little effort to do the job. A fabulous tool. Why did we wait so long to purchase?
Great product, even better customer service
I bought this product from Northern tool. They sent me an open box that was missing parts. When I contacted them about it, they basically told me "too bad".
I contacted Boxer Tool directly and within an hour had a working solution to get this device working, and had the spare parts within 24 hours of contacting them.
Today I installed the product and picked up 2 yards of Mulch in my full sized Dodge pickup. Unloading took about a minute. Amazing tool for moving heavy loads out of a truck. Do yourself a favor if you tend to move bulk in your pickup, buy this!