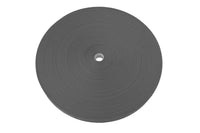 2 Inch 7,000 Pounds Polyester Webbing, 300 Feet Per Roll
Please contact us to place your order. 
This Polyester Webbing is great for light duty outdoor activities or for towing. It is strong yet lightweight, and can be exposed to high temperatures. Our polyester webbing comes with 300 feet per roll. The fabrication allows for very little stretch, and resists abrasion and damage from UV rays and most common chemicals.