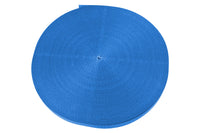 1 Inch 2,000 Pounds Nylon Webbing, 150 Feet Per Roll
Please Contact Us To Place Your Order.
This Nylon Webbing is thicker in size, and best used for slings and lifting. This heavy duty nylon webbing stretches between 20 to 30 percent more than polyester webbing. If your job calls for a more stretchable fabric, this nylon webbing has a snap back quality perfect for jobs where a snatch effect is needed.
Need help on deciding which webbing is right for you? Contact one of our sales experts, and we'll be happy to assist!