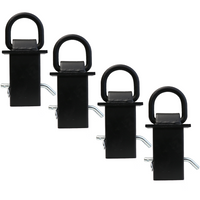 Boxer Stake Pocket 5/8" D-Ring Tie Down Anchor Point - 18,000-LBS Breaking Strength - 4 Pack
The D-Ring Stake Pocket is a top-of-the-line product designed for individuals who require elevated D-ring anchor points for their truck or trailer. Crafted from forged steel and finished with a black powder coating, this product is both durable and aesthetically pleasing. With a working load limit of 6,000 lbs. and a capacity of 18,000 lbs., this stake pocket D-Ring is suitable for a wide range of hauling applications.
The product is equipped with a 0.47" hitch pin w/ locking cotter pin and 4 pin holes for height adjustment, providing versatility and convenience. It can fit most standard 2" x 4" stake pockets, including common flush and outside stake pockets. The bolt and hitch pin combo included with the product allows for quick installation and relocation as needed for varying loads.
The D-Ring Stake Pocket is designed to reduce strap wear and increase the longevity of your hauling equipment. Its 18,000-pound breaking limit ensures that it can handle heavy loads with ease. The product's resilience to scratches, dings, and rust, combined with its black powder-coated finish, guarantees that it will maintain its appearance and functionality over an extended period.
Secure with confidence
These Stake Pocket D-Rings are perfect in every way for me. They've already been put to good use and have not dissapointed me. I will be ordering more.