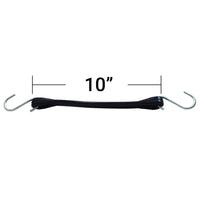 Boxer USA-Made Goldline E.P.D.M. Tarp Strap, 10 Pieces
This 10-piece Goldline Tarp Straps are made from E.P.D.M (Ethylene Propylene Diene Monomer) rubber, assembled in the United States. These rubber straps are available in a variety of different lengths to accommodate nearly any light-duty project. 
Check out our Truck Hardware & Cargo Control Hardware for more items and accessories to use with the tarp straps !